My Car's Value
Trade-In Values and Private Party Values
Ready to sell or trade in today?
After your Blue Book® Value, get a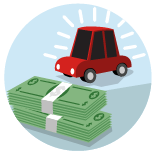 Kelley Blue Book SM
Instant Cash Offer
About Kelley Blue Book® Values
For over 90 years, Kelley Blue Book has been The Trusted Resource for used car values, helping car owners understand what their used car is worth. Depending on the method of disposal, there actually may be more than one Blue Book Value for the consumer's car, truck or SUV. The Kelley Blue Book Trade In Range shows what a consumer can expect to receive for their car this week when trading it in at a dealer. The Kelley Blue Book Private Party Value reports on a fair price when selling the car to an individual instead of doing a dealer trade in. Our Values are the results of massive amounts of data, including actual sales transactions and auction prices, which are then analyzed and adjusted to account for seasonality and market trends. Kelley Blue Book Values reflect local conditions in over 100 different geographic regions and are updated weekly to give consumers the most up-to-date used car pricing information.
Shopping for Auto Insurance?
Get great car insurance that's also a great value from State Farm.