Get a New Car Price
Select a Vehicle
Certified Pre-Owned (CPO) cars are high-quality, low-mileage used cars that have been thoroughly inspected and backed by an extended warranty. Learn more
Or Browse New Vehicles by
About Kelley Blue Book New Car Prices
When buying a new car, there's a lot of pricing information to consider. Most people look at the MSRP (Manufacturer's Suggested Retail Price) sometimes also known as new car sticker price. Some shoppers dig to find the invoice, thinking they can get an even better deal on a new car. But how do you really know how much you should pay for the new car you're interested in? Rely on Kelley Blue Book and KBB.com, with over 90 years of knowledge about car pricing. Check out the Kelley Blue Book® Fair Market Range and Fair Purchase Price for New Cars. Updated weekly, it takes data from thousands of deals, current supply and demand and regional and seasonal factors to show you what you can expect to pay for a new car. Sometimes the price might be close to MSRP, if the vehicle is new and in high demand. Other times, you might actually plan to pay thousands below MSRP if the car is widely available. Or, if you're not sure which car you want, KBB.com even helps you browse new cars by category and make, so you can find exactly the one you want.
Cars for Sale Near You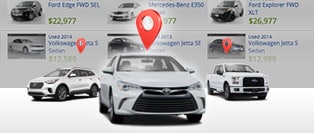 Search from thousands of new and used vehicles close to your home. Shop Now
Poll: Your Opinion Counts!